Allyane, the innovative solution for the treatment of neuromotor disorders
The innovative Allyane method is based on a combination of proprioception work, mental imagery and listening to low frequency sounds. This neuromotor reprogramming solution allows your patients to quickly and efficiently recover their everyday movements.

The Allyane method
Neuromotor inhibitions: a major issue in patient management
Scientifically documented under the term AMI (Arthrogenic Muscle Inhibition), neuromotor inhibitions define the impediments to movement induced by motor or gestural control in the brain. These inhibitions result from two main causes:
The traumatic cause: ankle instability, lameness, muscle weakness, limitation of amplitude of the upper limb;
The central cause: when the brain has been directly affected (neurological pathologies, after a stroke, Parkinson's disease or multiple sclerosis).
The consequences of a neuromotor disorder

Weaknesses in muscle activation ;


Delays and difficulties in rehabilitation.
The Allyane method therefore makes it possible to remove motor inhibitions and to take effective charge of the patient, with the aim of helping him or her to recover motor skills.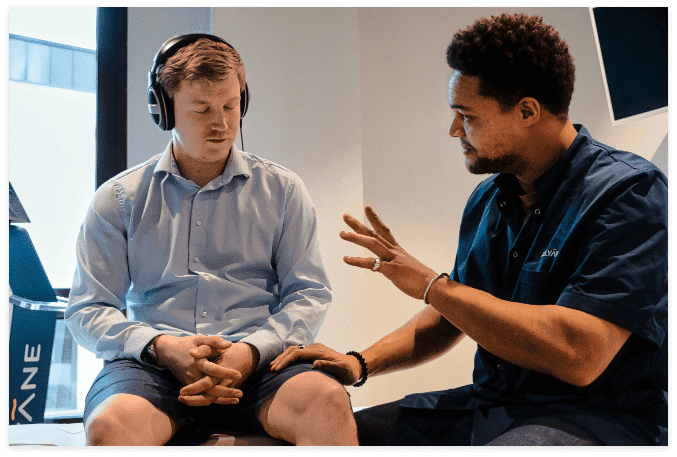 The Allyane method
How does the Allyane method work?
The Allyane method is based on 3 complementary pillars: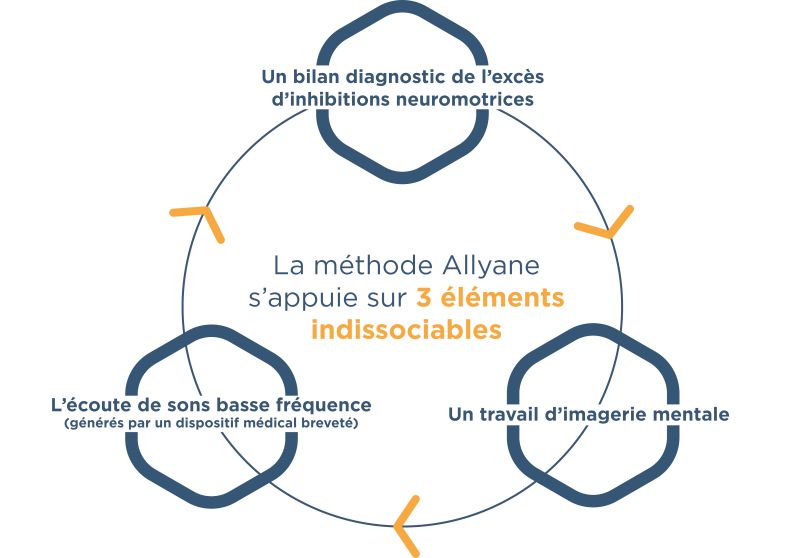 Listening to low frequency sounds
The devices
The use of transmitters to treat a neuromotor disorder
The Alphabimove®: the new generation of low frequency sound transmitter
Allyane's new medical device "Alphabimove®" is inseparable from the application of the neuromotor reprogramming method. In particular, it allows you to control the session thanks to its specific software, which gathers the history of your patients and the information (photos and videos) of anamnesis. It also allows you to create automatic reports and can integrate complementary software, such as Visible Body, EMG data processing software or a dynamometer.
The Alphabimove® offers unparalleled sound quality and purity.
Our medical device can be operated via software integrated into an iPad.
It also has a wireless remote control.
The Alphabimove® comes with a mobile column for easy use.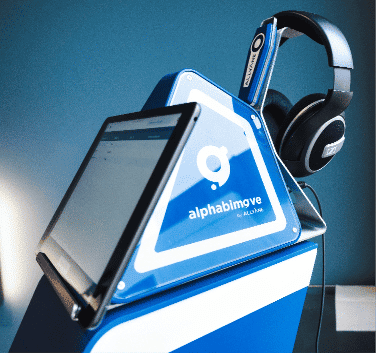 The Alphabox®: our low frequency sound transmitter
The Alphabox® is a low frequency sound generator. It produces two types of sounds, aimed at achieving different therapeutic objectives:
Pulsed sounds, to allow the patient to go into alpha mode;
Associated sounds, to activate the patient's motor areas.
This medical device was developed and designed in France by the creators of the Allyane rehabilitation method.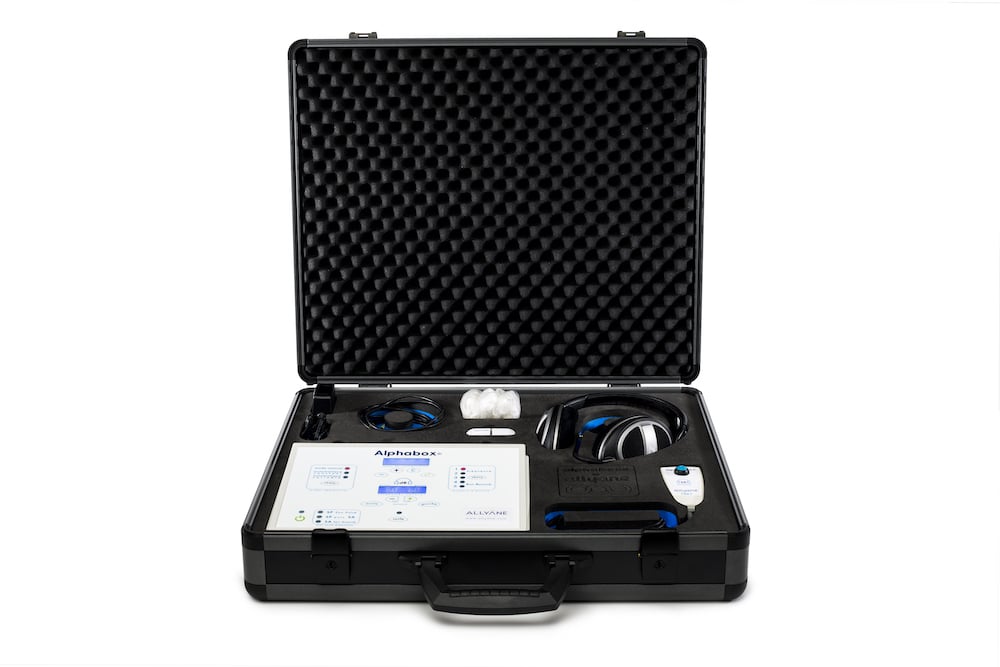 The Alphabox® emits sound signals in specific sequences so that the patient reaches alpha mode, i.e. the change in his or her state of alertness, in order to be able to record the new neuromotor programme and fix its storage.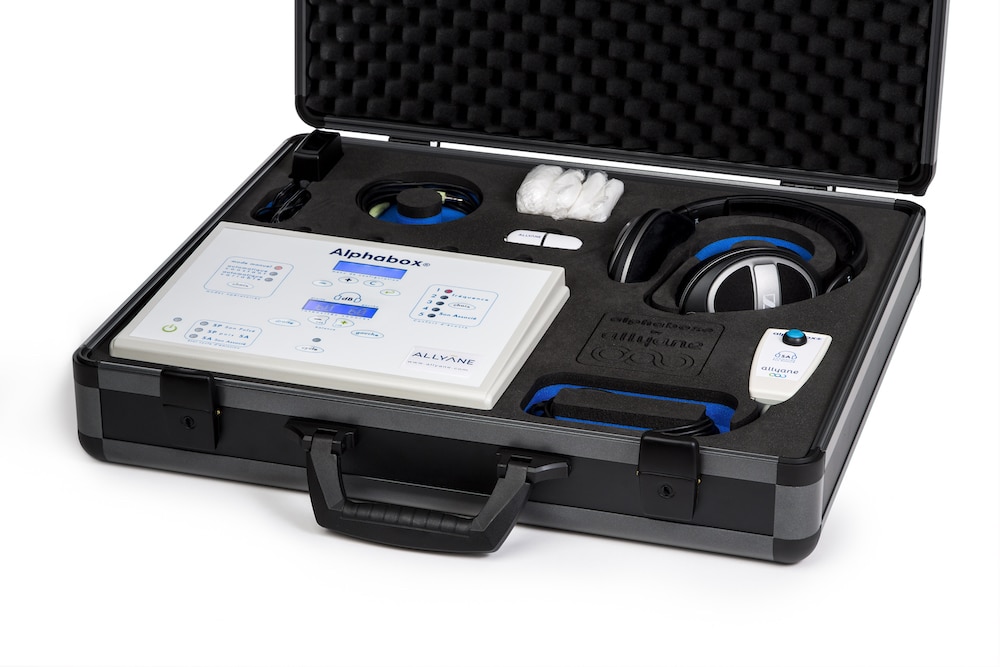 The Alphabox® low-frequency sound transmitter is protected by a patent issued by the INPI, which has been extended to the European PCT and international level.
Our medical device has undergone extensive electrical safety and electromagnetic compatibility testing to ensure reliability, signal reproducibility and safety in use.

Devices designed and developed in France
At Allyane our priority is to act in favour of patient care, while limiting our impact on the environment and favouring local products.
We are proud to design and manufacture our two low frequency sound generators (Alphabox® & Alphabimove®) in France, and more particularly in the Auvergne Rhône Alpes region, with our partners Innovel, Atoplast & AB Designer. The Alphabimove® is also made from recyclable materials.
The Allyane method
Integrate neuroscience into your daily practice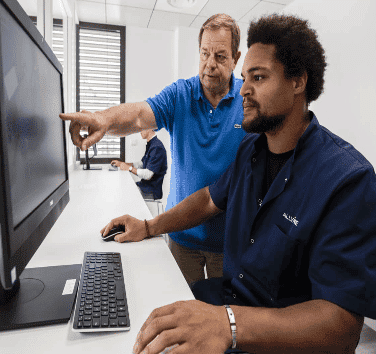 Discover our professional training courses to become a certified Allyane practitioner.
The Allyane training includes :
A 4-day certification course
An Alphabox® or Alphabimove® low-frequency medical sound device
Personalized follow-up (practical and clinical follow-up, exchanges with a learning community, participation in an annual seminar)
The Allyane method
Read their testimonials
It is a new approach that is very interesting to practice and very rewarding at the end of the session!

The Allyane method allows me to unblock certain situations or to gain time in others in order to reach the goal. I consider the method as complementary to my practice, sometimes indispensable. It is a new approach that is very interesting to practice and very gratifying at the end of the session!

Jean-Marie Bouvard Kinésithérapeute (MKDE) & Ostéopathe D.O

It is a fast and efficient method

  En voyant les résultats obtenus, je me suis dit qu'Allyane était forcément l'avenir. C'est une méthode rapide et efficace pour lever des inhibitions motrices sur lesquelles je ne pourrais pas travailler sans la méthode Allyane. Sans cette dernière je me trouverais donc devant une limite thérapeutique et une perte de chance d'évolution pour les patients et les sportifs que je suis.

Timothé Giordano Ostéopathe D.O

I strongly recommend the

  L'apport de la méthode à ma pratique est croissant et va devenir de plus en plus incontournable Je recommande fortement la méthode à tous les thérapeutes désirant renforcer et pérenniser l'efficacité du traitement.

Yvan Butscha Kinésithérapeute (MKDE)

Thanks to the method, my biotechnical analysis is more refined

  Grâce à la méthode mon analyse biotechnique est plus fine, j'arrive à aider certains patients que je ne faisais pas avancer avant. En faisant des séances Allyane, j'ai la sensation de faire un travail de qualité, pendant lequel je considère le patient dans son ensemble.

Laurent Ferreol Kinésithérapeute, ostéopathe D.O

 

A new approach to care

  I wanted to take a step into rehabilitative care

Thierry Blandin Kinésithérapeute (MKDE)

A solution to save time in rehabilitation

  Cette méthode est une nouvelle opportunité pour les personnes dont la rééducation prend du temps, mais également une solution pour gagner du temps en cas de traitements longs et difficile, comme par exemple la capsulite retractile. C'est un nouvel outil - et quel outil ! - pour notre pratique.

Franck Archimbaud Kinésithérapeute (MKDE)

A new tool for my practice

  Globalement, je peux dire qu'Allyane est un nouvel outil dans ma pratique. Celui-ci est particulièrement précis et intellectuellement très intéressant.

Jean-Baptiste Colombié Kinésithérapeute (MKDE)  et préparateur sportif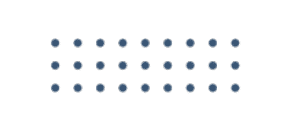 The Allyane method
Convinced by the Allyane method?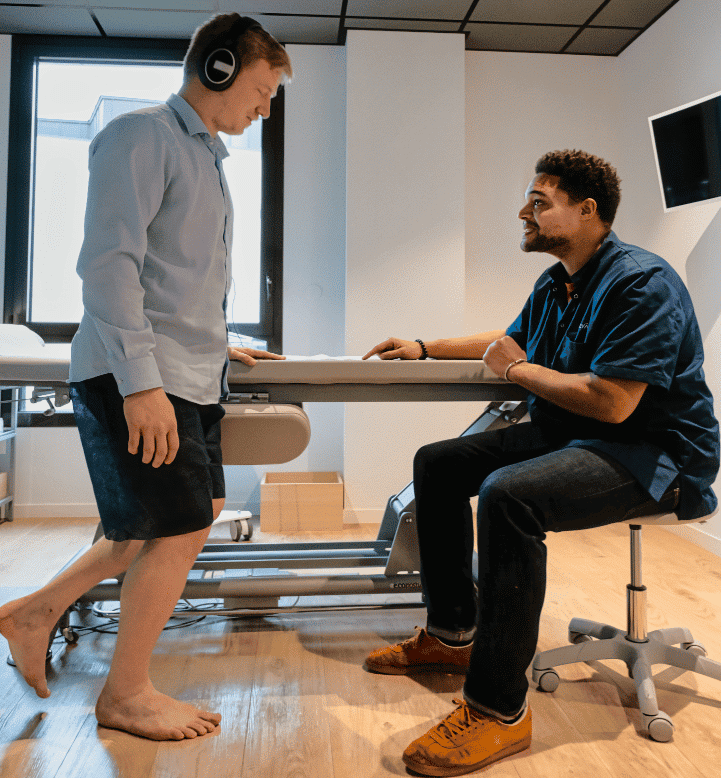 The Allyane method
The Allyane method in the press
Would you like to know more about the results of the sessions of patients in functional rehabilitation, as well as the benefits of our solution for movement professionals?
Discover the articles, press reports and scientific publications published about the Allyane method of treating neuromotor disorders.




The Allyane method
To go further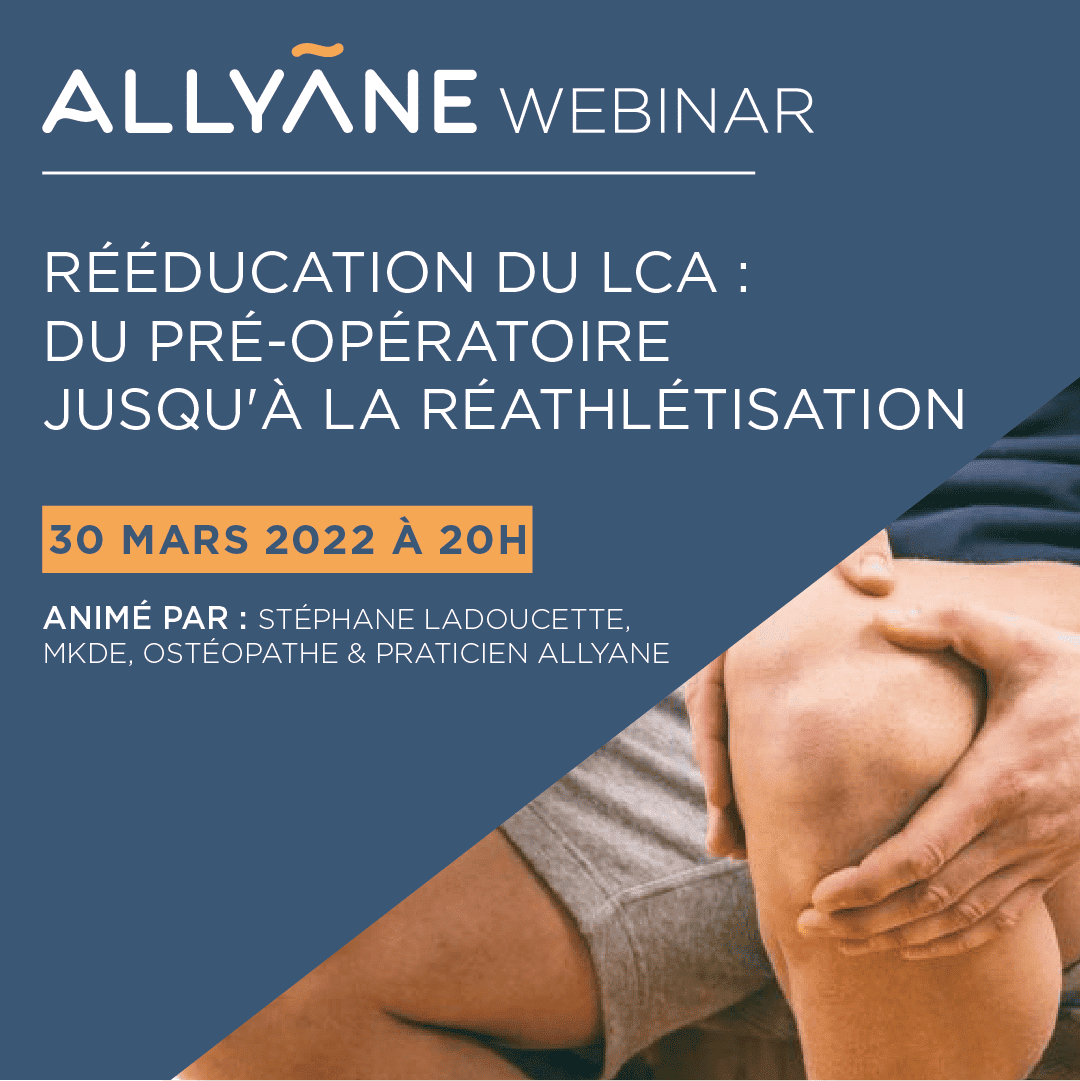 Watch this webinar hosted by Stéphane Ladoucette, MKDE, osteopath & Allyane practitioner. For...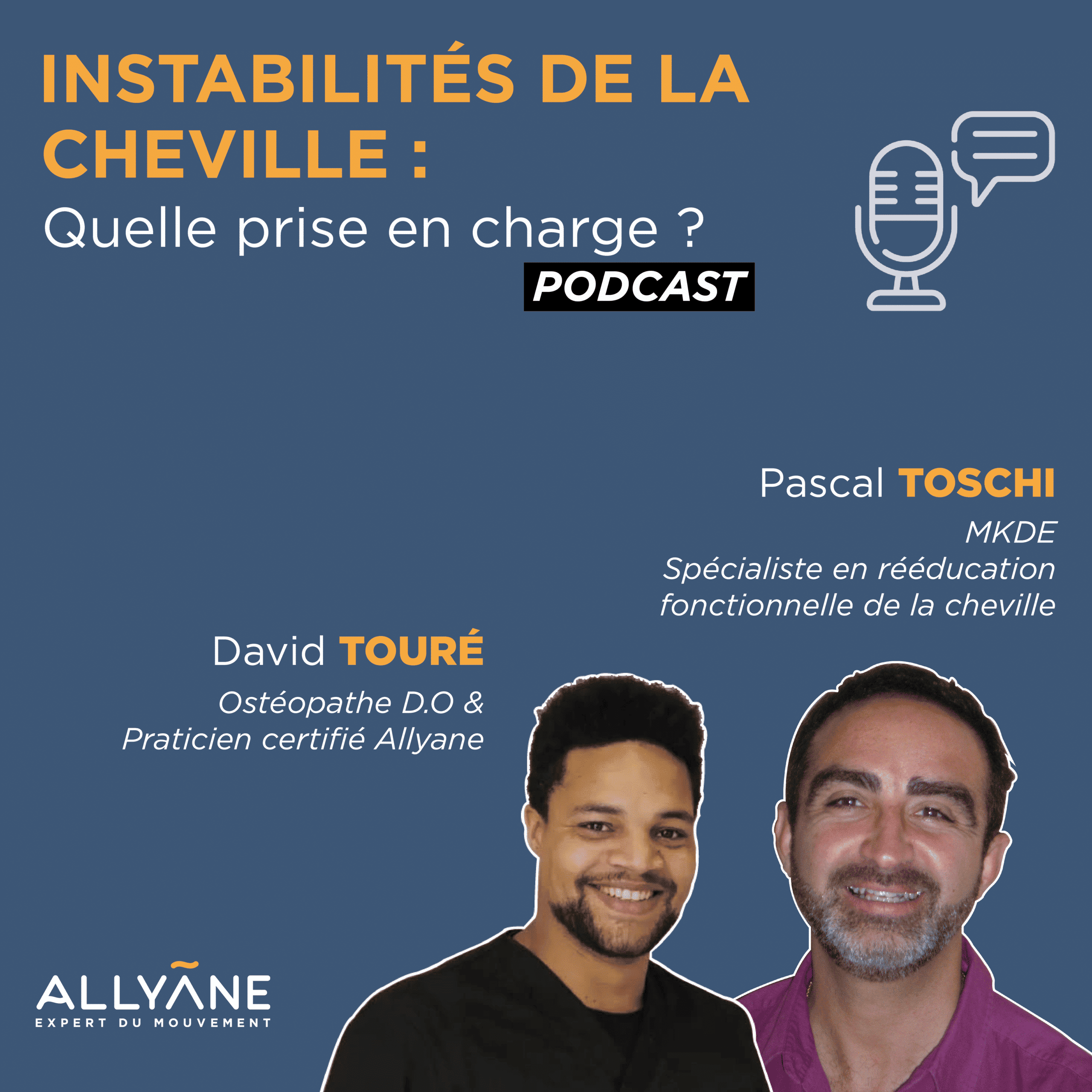 Watch this podcast hosted by David Touré, osteopath D.O, Allyane practitioner & Pascal Toschi,...